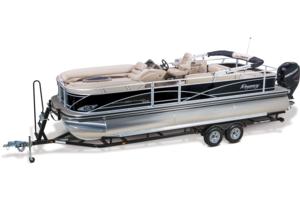 2014
SUN TRACKER
REGENCY™ 254 XP3
w/ 200 L Verado
NO HAGGLE NO HASSLE™
National Price
Price Excludes Optional Trailer
View Prices w/ Prep and Freight
Photos may show optional equipment.
Specs and features subject to change without notice.
Available Motors
Estimated
Speed
Package
Price
View Prices with
Prep and Freight
Mercury® Verado®
200 L Verado®
27 - 35
$ 43,995*
250 L Verado® Pro FourStroke
37 - 50
$ 47,995*
300 L Verado® Pro FourStroke
-
$ 49,995*
Engine options other than the ones shown here may be available for this boat. Additional charges apply for engine changes requested on boats purchased from dealer stock.
See your dealer for details.
Estimated speeds are based on testing performed at elevation of 915 ft. and may vary depending on altitude, water and air temperature, load and other key factors.